GYM IN A BOX NEW SHOP LAUNCH BEVERLY HILLS RODEO DRIVE !
We are happily  announcing that we at Gym In A Box L.A. in cooperation with our Media-Partner " The Beverly Hills Insider" are so excited to officially launch our GYM IN A BOX POP UP SHOP IN  BEVERLY HILLS  Wednesday Jan 12, 2022!


Cristiani's Balance Fitness & Nutrition, LLC
IS A BEVERLY HILLS COMPANY, FOUNDED IN 2015.

That's why it was our biggest wish to launch the FIRST Gym In A Box RETAIL STORE in one of the most expensive and luxurious locations of the world IN BEVERLY HILLS, CALIFORNIA - just a couple of min. OFF RODEO
The three blocks of Rodeo Drive just north of Wilshire Boulevard in Los Angeles make up one of the most famous streets in the world. The street is known for its collection of ultra high-end designer and boutique shops and has been featured in more than a few films — from "Beverly Hills Cop" to "Clueless."
As an Angeleno, I might be biased, but I think everyone should visit Rodeo Drive at least once, maybe venture into one of the stores and pretend you're Julia Roberts in "Pretty Woman." Plus, beyond the luxury stores, there's more to see on and around this swanky street. And I'm here to tell you all about it, including a few insider tips for your trip to Beverly Hills. And GYM IN A BOX is now a part of this! How exciting!
COME JOIN US IN BEAUTIFUL BEVERLY HILLS! 🤩
The reputation of Rodeo Drive as an upper-upscale shopping destination started when a luxury boutique named Giorgio Beverly Hills opened in 1961. The guy who opened it, Fred Hayman, was later known as "the godfather of Rodeo Drive" — for good reason. Gucci and other luxury stores followed after, and all of that helped give Rodeo Drive the classy reputation it has today.

https://www.exp1.com/blog/visiting-rodeo-drive-in-beverly-hills-heres-what-to-expect/
Even if you can't afford to buy anything from the Rodeo Drive shops, it doesn't hurt to window shop — and maybe admire some of the nice cars on the street, possibly parked by those who aren't just window shopping.
There are a few boutiques on parallel streets, but Rodeo Drive mostly contains well-known luxe brands like Louis Vuitton and Prada. It's also home to what is reportedly the most expensive store in the world, House of Bijan, where you can pick up that $15,000 leather jacket you've just got to have.
The cobblestone-lined Two Rodeo Drive is probably the most charming section to walk around in. It's a shopping center within a shopping destination, an immaculately landscaped outdoor mall that oozes with European charm and American commerce.
Don't expect to see many celebrities shopping here, though. Many of the stores have private shopping lounges that only VIPs can go to.
Insider tip: Visiting around the holidays? They often have carolers during the festive season at Two Rodeo Drive. It's a great place to go if you're Christmas shopping. Even if you don't buy anything, the phrase, "I was shopping for you on Rodeo Drive … " has a nice ring to it.
Walk of Style at Two Rodeo Drive
It's like the Hollywood Walk of Fame, but make it fashion. The Walk of Style commemorates important people in the world of fashion and design with plaques on the ground. Each plaque also shows a personal quote from each of the featured honorees that makes it more interesting to read. The Southern end of the Walk of Style is marked by "Torso," a striking aluminum sculpture of a nude female torso.
Exploring Around Rodeo Drive in Beverly Hills
Don't restrict yourself to the three blocks of Rodeo Drive. There are quite a few things to see and do in the immediate area.
And be sure to bring your camera — this place is made for picture-perfect memories.
More Shopping (Of Course) Plus Photo Opps
On the northern end of the street, cross Santa Monica Boulevard to Beverly Gardens where you can take in some art and snap a photo with the Beverly Hills sign (a favorite on our Beverly Hills tour). The parallel streets such as Canon Drive and Beverly Drive also have stores and restaurants worth checking out, including some great chocolate stores both old and modern.
Insider tip: If you're crossing from Beverly Drive to Canon Drive, instead of using the street, walk through the Beverly Canon Gardens, just south of Dayton Way, a lush garden with a fountain and manicured plants.
Art Galleries
Beyond shopping for fashion, Rodeo Drive and Beverly Hills also offer great opportunities for art. Travelers and locals on a budget can still appreciate the art at the galleries.
Galerie Michael is a small fine arts gallery that's been showcasing world-class art collection for more than four decades. For some contemporary art, check out Mouche Gallery on Beverly Drive. Meanwhile, for a famous touch, swing by Gagosian Gallery on North Camden Drive. It's held exhibits of renowned artists such as Jeff Koons, Takashi Murakami, and more.
Plan Your Trip to Rodeo Drive and Beverly Hills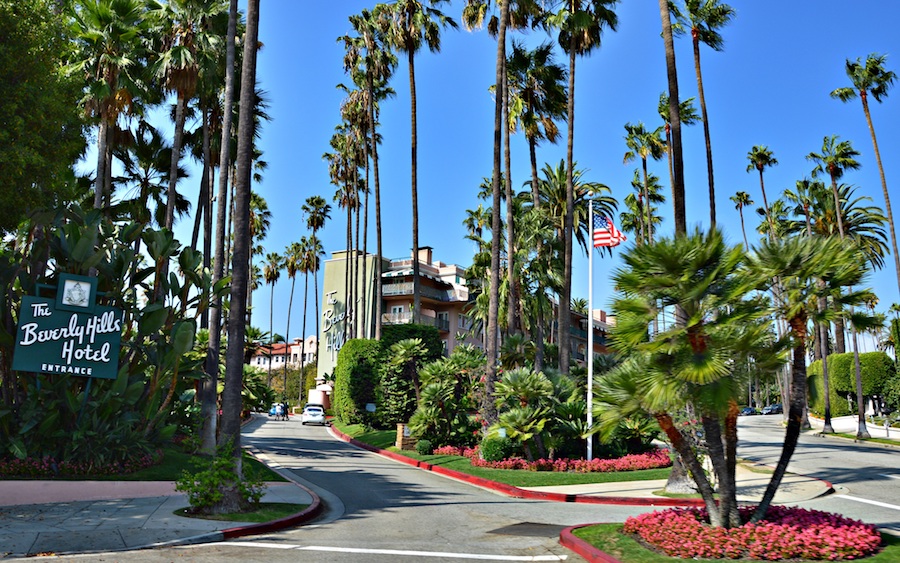 Ready to join in on the glamorous lifestyle? Check out our tips below so you can plan your visit properly.
How far is Rodeo Drive from the Hollywood Walk of Fame?
Rodeo Drive is about 6 miles away from the Walk of Fame in Hollywood. In good traffic conditions it takes about 20 minutes to drive from one location to the other. You can certainly hit both spots known for their glamour in one day of touring LA's best highlights.
Is Rodeo Drive expensive?
Rodeo Drive is certainly full of high-end designer stores that are expensive to shop at. This is not a place to hunt for deals.
That said, it's free to visit and window shop. There are even parking garages in the area with two-hour free parking (no validation required), a rarity in Los Angeles.
Insider tip: The garages on Beverly Drive would be closest to Rodeo Drive. There are three of them — just look for the signs for public parking. There are more affordable stores in the surrounding blocks should you be inclined to do a little shopping after all.
What restaurants are near Rodeo Drive?
There's plenty to eat around Rodeo Drive for all budgets. Splurging for a special occasion? Try the white-tablecloth steakhouse, The Grill on the Alley, just around the corner. Or maybe make a reservation at Wolfgang Puck's famous Spago, a couple of blocks away.
Il Pastaio is a nice mid-range old school-Italian spot and Wally's Beverly Hills is a good spot to stop for lunch or wine break.
If you're looking for something more affordable, there's the good old Nate 'n Al's for deli food and Panini Kabob Grill (the sign outside may say Panini Cafe, but it's all about the kabobs here).
Rodeo Drive: Not Just a Shopping Destination
Let's be honest, most of us can't afford to shop regularly on Rodeo Drive, but as I've hopefully shown you here, you don't need to go on a shopping spree to make the most of what this famous street has to offer.

Spare a couple hours to stroll the gardens, admire the window displays and art, snap a selfie at the Walk of Style, and gawk at the price tags. And maybe come home with some edible souvenirs from one of the chocolate shops, too. There's plenty of Beverly Hills glamor here for everyone.

https://lovebeverlyhills.com/shopping?utm_source=Madden&utm_medium=GoogleCPC&utm_campaign=RodeoDrive&gclid=Cj0KCQiA8vSOBhCkARIsAGdp6RT72880-LIAZvhHCdFO8HUwCE-9N0Ho_ye1seY-khMmp9Lr5kDwhNQaAniZEALw_wcB
So excited to be part of the BEVERLY HILLS RETAIL FAMILY ! 


www.GYMINABOX.la



---